The Explosion by Philip Larkin
This week's poem, one of Philip Larkin's best-known, reflects on a mining disaster. Of course, it resonates these days.
The Explosion
On the day of the explosion
Shadows pointed towards the pithead:
In the sun the slagheap slept.
Down the lane came men in pitboots
Coughing oath-edged talk and pipe-smoke,
Shouldering off the freshened silence.
One chased after rabbits; lost them;
Came back with a nest of lark's eggs;
Showed them; lodged them in the grasses.
So they passed in beards and moleskins,
Fathers, brothers, nicknames, laughter,
Through the tall gates standing open.
At noon, there came a tremor; cows
Stopped chewing for a second; sun,
Scarfed as in a heat-haze, dimmed.
The dead go on before us, they
Are sitting in God's house in comfort,
We shall see them face to face -
Plain as lettering in the chapels
It was said, and for a second
Wives saw men of the explosion
Larger than in life they managed -
Gold as on a coin, or walking
Somehow from the sun towards them,
One showing the eggs unbroken.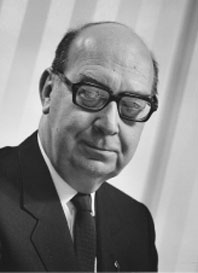 Philip Larkin was born in 1922 in Coventry, England. He became the preeminent British poet of his generation, and a leading voice of what came to be called "The Movement," a group of young English writers who rejected the prevailing fashion for neo-Romantic writing in the style of
Yeats
and
Dylan Thomas
. Like Thomas Hardy, Larkin focused on intense personal emotion but strictly avoided sentimentality or self-pity. Deeply anti-social and a great lover (and published critic) of American jazz, Larkin never married and conducted an uneventful life as a librarian in the provincial city of Hull, where he died in 1985.