The Superbowl Shuffle, Verse X by William Perry
The Superbowl Shuffle was 1985's answer to the Canterbury Tales. Its genius lay in replacing Chaucer's pilgrims recounting bawdy tales around the campfire with football players glossing themselves old school while dancing awkwardly in tandem. If the Shuffle's highlight wasn't Bears punter Maury Buford wearing a white fedora and oversized sunglasses and hitting a cowbell with no trace of irony, it was Chicago's rookie sensation, "The Fridge," laying down a few rhyming couplets.
The Superbowl Shuffle, Verse X
You're looking' at the Fridge, I'm the rookie,
I may be large but I'm no dumb cookie.
You've seen me hit, you've seen me run,
When I kick and catch we'll have more fun,
I can dance, you will see,
The others...they all learnin' from me.
I didn't come here lookin' for trouble;
I just came to do the Super Bowl Shuffle.
See it all
here
.
Ok, so this isn't exactly poetry. The Bears pulling away from the Saints while the snow started to fall on Soldier Field—that was poetry.
(Thanks to Matt Lyon for the poem and bio this week)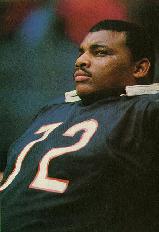 William Perry (b. 1962) is a former defensive lineman for the Clemson Tigers and Chicago Bears. He is best known for pilfering a touchdown from the more-deserving Walter Payton in Super Bowl XX. His recent exploits include celebrity boxing against Manute Bol and a failed attempt to win the Nathan's Hot Dog eating contest.