Resume by Dorothy Parker
Dorothy Parker's suicide attempts were no laughing matter, unless you asked
her
. The New York writer and poet lived a brilliant but tempestuous life, marked by a caustic sense of humor she turned even on her own difficulties. Resume is a great example of her dark wit hitting close to home.
Resume
Razors pain you;
Rivers are damp;
Acids stain you;
And drugs cause cramp.
Guns aren't lawful;
Nooses give;
Gas smells awful;
You might as well live.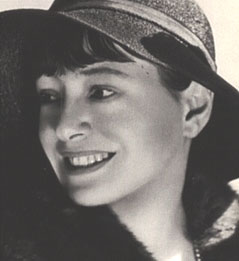 Dorothy Parker (1893-1967) was born in West End, New Jersey and raised in Manhattan. She became a well-known poet, writer and editor, working for Vogue and the New Yorker. Parker was a founding member of the "Algonquin Round Table," a group of intellectuals known for their vicious wit, along with Robert Benchley, Harpo Marx, George S Kaufman, and Edna Ferber.