How Many Nights by Galway Kinnell
Happy New Year from Poem of the Week! I set the blog on auto update while I was on vacation and it failed me (sigh). But we'll be back on schedule now. To start the year, here's "How Many Nights" by Galway Kinnell, who I think writes about nature as well as any living poet.
How Many Nights
How many nights
hive I lain in terror,
O Creator Spirit, Maker of night and day,
only to walk out
the next morning over the frozen world
hearing under the creaking of snow
faint, peaceful breaths . . .
snake,
bear, earthworm, ant . . .
and above me a wild crow crying 'yaw yaw yaw'
from a branch nothing cried from ever in my life.
If you want to read another, take a look at
Saint Francis and the Sow
.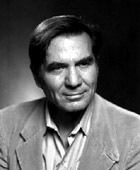 Galway Kinnell was born in Providence, Rhode Island, in 1927. He has won both the National Book Award and the Pulitzer Prize. He was a professor of Creative Writing at NYU, but is now retired and at his home in Vermont.